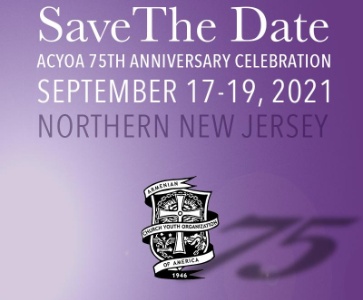 17 sept. 2021 12:00 PM
Location TBD in Northern New Jersey

New Jersey - United States
Mark your calendars now!
ACYOA will celebrate the 75th Anniversary of the organization, founded by the late Archbishop Tiran Nersoyan of Blessed Memory.
Through the decades, ACYOA has brought together thousands of Armenian youth throughout the Eastern Diocese via service, education, fellowship and athletics.
The reunion weekend will celebrate lifelong friendships, strengthen our commitment to the Armenian Church and an opportunity to reminisce with old friends.
For additional information email: ACYOA75@gmail.com