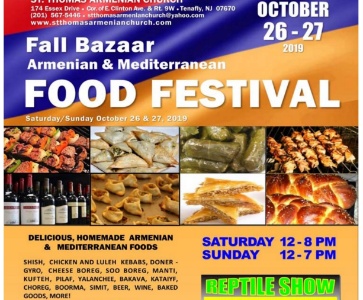 26 oct. 2019 12:00 PM
174 Essex Drive
Tenafly, NJ 07670

New Jersey - United States
The annual St. Thomas Armenian Church #Fall #FoodFestival & #Bazaar is here!
Plenty of #delicious and homemade entrees and #desserts, it's a fantastic time to gather with friends and #enjoy #autumn and the #fall season in the picturesque and #comfy 'home' of St. Thomas #Armenian Church!
Lots of #shopping and #entertainment await, as do great #raffle #prizes - with some first-ever opportunities this year! DJ entertainment provided by #DJ Shant - you do not want to miss this year's bazaar! Check out our flyer, and bring your family and friends - EVERYONE is welcome!