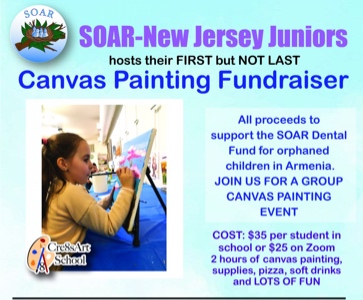 18 juil. 2020 5:00 PM
210 Main Street, Fort Lee, NJ 07024

New Jersey - United States
SOAR-NJ Juniors is hosting a fundraising event between 5pm and 7pm on Saturday July 18, 2020. Attendees will have the opportunity to paint and portray their talents.
You are invited to the Cre8sArt School Fort Lee location to give relief to orphaned Armenians. Please RSVP (201) 290-5080 or mail check to SOAR (840 Banta Place, Ridgefield NJ 07657) You can make an online payment as well.
All proceeds will support the SOAR Dental Fund. If you would like to join via Zoom, the tickets will cost $25. If you are interested in joining us in person, the cost will be $35 which includes pizza as well as soft drinks. All Zoom participants can help themselves with art supplies by visiting Cre8sArt School beforehand. Face masks will be required for the participants. Additionally, everyone's temperature will be taken at the door.
We are looking forward to seeing everyone there!
https://www.soar-us.org/event/new-jersey-junior-canvas-painting-fundraiser/