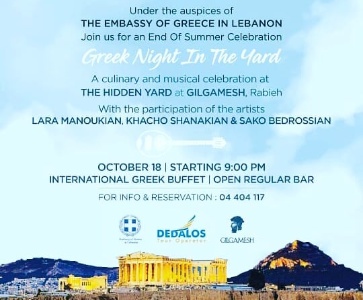 18 oct. 2019 9:00 PM
The hidden yard at Gilgamesh, Rabieh

Mount Lebanon - Lebanon
Join us for an end of summer celebration: Greek night in the yard!
A culinary and musical celebration at the hidden yard at Gilgamesh, Rabieh.
With the participation of the artists:
- Lara MANOUKIAN
- Khacho SHANAKIAN
- Sako BEDROSSIAN
International Greek buffet, open regular bar.
For information & reservation: 04 404 177.