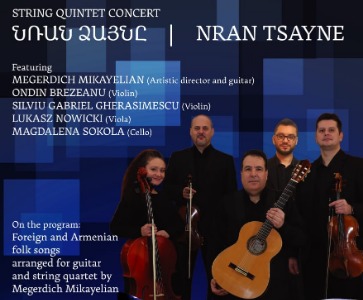 9 juin 2019 8:00 PM
Pierre Abou Khater Theater, USJ.

Beirut - Lebanon
String Quintet Concert Nran Tsayne.
Featuring:
- Megerdich MIKAYELIAN (Artistic director and guitar)
- Ondin BREZENU (Violin)
- Silviu Gabriel GHERASIMESCU (Violin)
- Lukasz NOWICKI (Violla)
- Magdalena SOKOLA (Cello)
On the program:
Foreign and Armenian guitar and string quartet by Megerdich MIKAYELIAN.