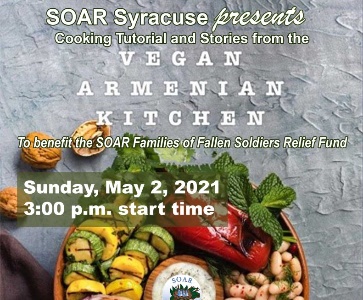 2 mai 2021 3:00 PM
Virtual Event! Register Here:
https://www.soar-us.org/event/armenianvegancooking/

New York - United States
Spend the afternoon enjoying a presentation of the beautifully illustrated The Vegan Armenian Kitchen Cookbook with recipes and stories from Armenia and the Armenian Diaspora with author Lena Tashjian and photographer Siroon Parseghian. Lena will also demonstrate how to make a special recipe from the book.
Learn to make Darehats for Mother's Day – a naturally plant-based cake with a dried fruit/nut mixture in the middle. You can decorate the top with a Mother's Day-themed design. You can also add a coin or fruit seed to the middle and whoever gets the coin or seed is meant to have good luck.
This event will benefit the SOAR Families of Fallen Soldiers Relief Fund.
$15 for admission
$20 for admission plus raffle ticket