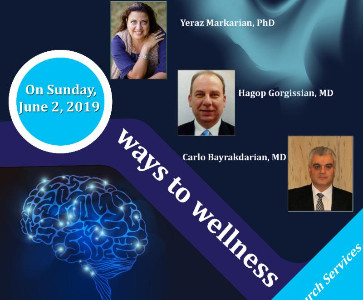 2 juin 2019 10:00 AM
St. Sarkis Armenian Apostolic Church | 38-65 234th St., Douglaston, NY 11363

New York - United States
On Sunday, June 2, after church services, St. Sarkis will host the 3rd Annual "Ways To Wellness: A Panel Discussion on Mental Health." This program on mental health has been a huge success each year.
The purpose of the discussion is to destigmatize mental health and illness and help our parishioners learn more about the importance of mental health.
Our panel discussion will again feature esteemed mental health practitioners with whom you are familiar: Yeraz Meschian, PhD a licensed clinical psychologist, Executive Director of Healthy Mind NY, where she provides individual and group therapy, family counseling and parenting skills, and Assistant Professor at the Icahn School of Medicine at Mount Sinai; Hagop Gorgissian, MD an Assistant Clinical Professor of Psychiatry, Icahn School of Medicine at Mount Sinai and an Adjunct Clinical Professor of Psychiatry, St. George University who also has a private practice in Queens; and Carlo Bayrakdarian, MD a geriatric psychiatrist who has a private practice throughout Westchester and in New York City and was a Clinical Instructor in Psychiatry at the Cornell University Medical Center.