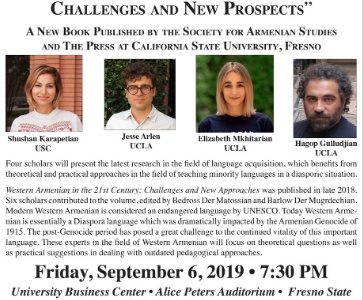 6 sept. 2019 7:30 PM
University Business Center, Alice Peters Auditorium, Fresno State
5245 North Backer Ave, Fresno, CA 93740, USA, Fresno, CA, 93740

California - United States
Four scholars will present the latest research in the field of language acquisition, which benefits from theoretical and practical approaches in the field of teaching minority languages in a diasporic situation.
Western Armenian in the 21st Century: Challenges and New Approaches was published in late 2018. Six scholars contributed to the volume, edited by Bedross Der Matossian and Barlow Der Mugrdechian. Modern Western Armenian is considered an endangered language by UNESCO. Today Western Armenian is essentially a Diaspora language which was dramatically impacted by the Armenian Genocide of 1915. The post-Genocide period has posed a great challenge to the continued vitality of this important language. These experts in the field of Western Armenian will focus on theoretical questions as well as practical suggestions in dealing with outdated pedagogical approaches.
Free admission and free parking.