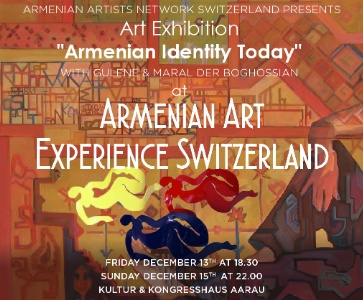 13 déc. 2019 6:30 PM
KULTUR & KONGRESSHAUS AARAU

Aargau - Switzerland
Gulene Torossian` s art & sculptures are a way of telling stories and expressing hope despite tragedies and the experience of the civil war in Lebanon. Iron as a chosen material represents resilience ,resistance and the strengt to re-build life.
Maral Der Boghossian s paitnings show a different aspect of Armenian identity today . One that is deeply rooted in culture but also interacts with new cultures .Her approach reflects the layers of multicultural identity.
Using elements and patterns of Caucasian and Persian carpets and figures she mirrors the multiple cultures that are interwoven like a colouful carpet.