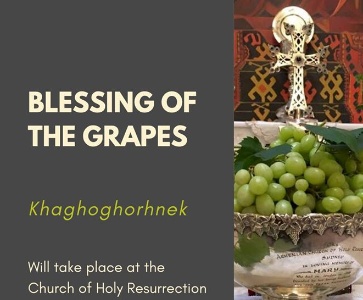 26 janv. 2020 10:00 AM
Armenian Apostolic Church of Holy Resurrection
10 Macquarie Street, Chatswood

New South Wales - Australia
The blessing of the grapes, Khaghoghorhnerk, will take place at the Church of Holy Resurrection on Sunday 26 January 2020 following the Divine Liturgy.
The custom of blessing grapes, the first fruits of the harvest, can be traced back to Old Testament times when farming was a common vocation and much care and time was given to it. Of the vast variety of produce, grapes had a special place of honour and were considered the "first fruits", because they were the first produce of harvest.
It is traditional to use seedless grapes for the Blessing to emphasise that this fruit came into being without seed just as Christ became man without any human agent.
Parishioners are invited to contribute grapes, a sacred practice carried out with faith and reverence. To do so for the blessing ceremony please contact the church office on 9419-8056 to register the donation and to assist with distribution we request grapes are prepared and delivered in small individual bags.