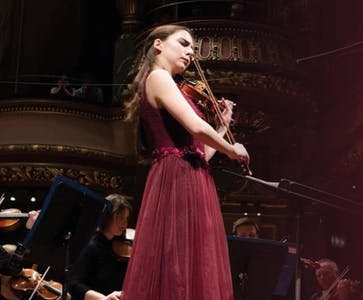 13 juil. 2018 7:30 PM
AGBU Armenia Hall
2/2 Melik-Adamyan str.

Yerevan - Armenia
Armenian General Benevolent Union cordially invites you to attend a special evening of classical music with AGBU Performing Arts Department alumnus and winner of the prestigious Menuhin Competition 2018, Diana Adamyan, accompanied with Astghik Ghukasyan on piano.
The evening will take place on Friday, July 13th , 19:30 at AGBU Armenia Hall (2/2 Melik-Adamyan str.).
***
Հայկական բարեգործական ընդհանուր միությունը սիրով հրավիրում է Ձեզ ներկա գտնվելու ՀԲԸՄ կրթաթոշակառու և Մենուհին 2018 հեղինակավոր մրցույթի հաղթող Դիանա Ադամյանի դասական երաժշտության հատուկ երեկոյին՝ նվագակցությամբ Աստղիկ Ղուկասյանի (դաշնամուր):
Միջոցառումը տեղի կունենա ուրբաթ, 13 հուլիսի, 19:30-ին ՀԲԸՄ Հայաստանի դահլիճում (Մելիք-Ադամյան 2/2):