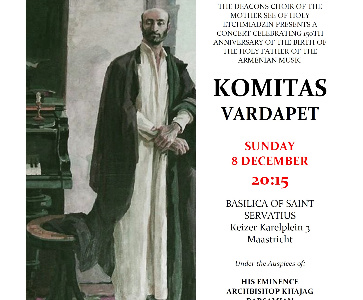 8 déc. 2019 8:15 PM
Servaasbasiliek, Keizer Karelplein 3, 6211 TC Maastricht

Netherlands
In honor of the 150th anniversary of the Armenian composer / priest Komitas, the Armenian apostolic Surp Karapetchurch of Maastricht is organizing a concert. The 14-member deacon choir of the Armenian Holy See in Echmiadzin (Armenia) will perform numerous religious and folk songs.
Everyone is welcome in the Sint Servaasbasilica on Sunday December 8 at 20:15.
Free admission/free entrance.
Ter ere van het 150-jarige jubileum van de Armeense componist/priester Komitas, organiseert het Armeens apostolische Surp Karapetkerk van Maastricht een concert. Het 14 koppige diakenkoor van de Armeense Heilige Stoel in Etsjmiadzin (Armenië) zal tal van religieuze en volksliederen ten gehore brengen.
Iedereen is van harte welkom in de Sint Servaasbasiliek op zondag 8 december om 20:15 uur. Entree is gratis.