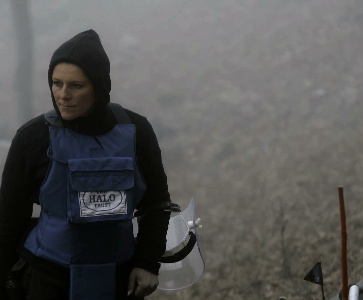 8 mars 2021 6:00 PM
https://us02web.zoom.us/webinar/register/WN_nDVtxCD4RG6yxu4XHTWScw

Brussels-Capital - Belgium
Meet the director Silva Khnkanosian for a Q&A at 18:00 on March 8, 2021.
Sparse in dialogue, this immersive documentary highlights the stunning devotion of a group of women who work as mine-clearers. They are the vulnerable archaeologists of a particular chapter in Armenian history when 30 years ago, after the collapse of the Soviet Union, the Armenian population of Nagono-Karabakh tried to reunite with the Republic of Armenia. Metre by metre they are clearing the 'Lachin Corridor', a former combat zone where thousands of mines were planted.
Silva Khnkanosian trained at the Manana Youth Center, an Armenian organisation that educates young artists and critical thinkers. She is currently active as a reporter and photographer, and Nothing to Be Afraid of is her first feature film.
Nothing to Be Afraid of is presented in the framework of the International Women's Day 2021.