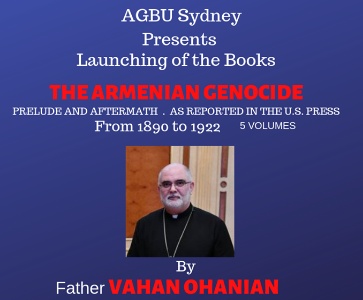 12 juil. 2019 7:00 PM
AGBU Centre
2 Yeo Street Neutral Bay

New South Wales - Australia
Under The Auspices of His Eminence Archbishop Haygazoun Najarian, AGBU Sydney presents, launching of the books:
THE ARMENIAN GENOCIDE: PRELUDE AND AFTERMATH - AS REPORTED IN THE U.S. PRESS - From 1890 to 1922 (5 Volumes).
By Father VAHAN OHANIAN Vicar-General of the Mkhitarian Congregation at St. Lazzaro, Venice.
Open invitation, light refreshments will be follow.