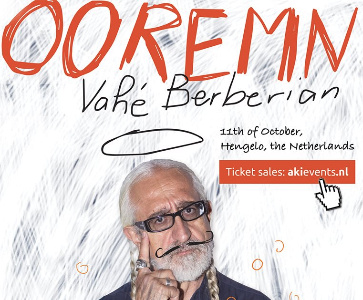 11 oct. 2019 7:00 PM
Beckum Palace Zalencentrum
Haaksbergerstraat 166-1, 7554 PB Beckum, Netherlands

Netherlands
As a huge fans we are thrilled to announce that Vahe Berberian will preform his newest monologue "Ooremn" in the Netherlands! This event will be held on Friday 11th of October in Hengelo.
Online e-ticket sales will be available for the Early Bird members on 27th of August and for the public on 30th of August. Seats will be limited. To make sure for reservation you can subscribe to the Early Bird member list (free of charge).
For the Early Bird subscription visit http://akievents.nl.
Early Bird members will get priority on ticket sale and a 10% discount on the ticket sale! The Early Bird offer ends on 26th of August!
Further information regarding ticket sales and pricing will be announced by e-mail (Early Bird Members) and on this event page for public!