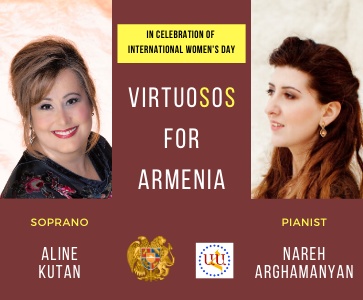 8 mars 2020 7:00 PM
First Armenian Evangelical Church of Montreal
11455 Rue Drouart, Montréal, QC, H3M 2S6

Quebec - Canada
VIRTUOSOS FOR ARMENIA
With soprano Aline Kutan and pianist Nareh Arghamanyan
Favorite arias, songs & piano gems
RESERVE YOUR TICKETS NOW!
Call
514-601-5131
514-214-5131
A concert in Montreal not to miss! Come celebrate International Women's Day with two outstanding Armenian women artists in support of top talent in Armenia!
A concert in support of the Atken Armenian Foundation's Zartonk International Summer Music Academy in Armenia providing professional training to the top young talents of Armenia, the future cultural ambassadors of the Nation.
WWW.ATKENARMENIANFOUNDATION.COM
TICKETS
Regular
50$
Students
25$