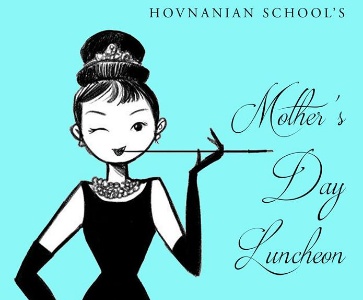 2 mai 2018 11:00 AM
Hovnanian School
817 River Rd, New Milford (New Jersey) 07646

New Jersey - United States
Join us for our Annual PTO Mother's Day Luncheon. This year's theme is "Breakfast at Tiffany's - Channel your inner Audrey." This is a lovely afternoon out celebrating all mothers. The luncheon includes adorable performances by our ELC through 1st grade students, gourmet lunch, incredible raffle baskets, and a tribute to our 'Mother of the Year'. All proceeds of this event benefit the school's educational programs.
Tickets available online at eventbrite.com or please contact Taline Boyadzhyan at taline.boyadzhyan@gmail.com or email the school office at mailbox@hovnanianschools.org
If you would like to donate gifts for the raffle, please contact mailbox@hovnanianschools.org for more information.