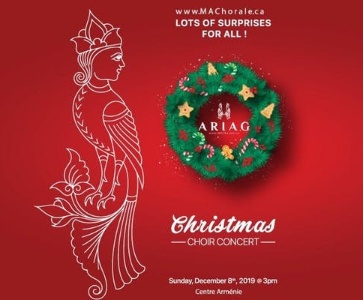 8 déc. 2019 3:00 PM
Centre Arménie
1025 Boulevard Élisabeth
Montréal, Quebec H7W 3J7

Quebec - Canada
Please join us for a wonderful afternoon with your entire family!!
Ariag - Montreal Armenian Choir's Christmas concert will be filled with wonderful surprises for all!
Children will enjoy with some sing-along songs and... a special visit from the North Pole!!
Tickets are $25 for adults (ages 12+) and $15 for kids aged 3-12! Children under 2 enter for free! You can purchase your tickets from our members. Hope to see you all there! it will be a magical afternoon filled with Christmas joy and wonder!!!
*Conductors Gohar Manvelyan and Varuzhan Margaryan
**Participation of Petit Hayk Children Vocal Ensemble / Artistic Director Hasmik Gasparyan