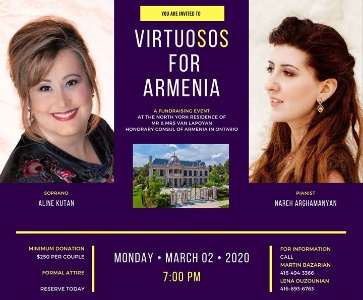 2 mars 2020 7:00 PM
North York of Mr & Mrs Van Lapoyan Honorary Consul of Armenia in Ontario

Ontario - Canada
Fundraising event at the North York of Mr & Mrs Van Lapoyan Honorary Consul of Armenia in Ontario.
Aline Kutan - Soprano
Nareh Arghamanyan - Pianist
Support the efforts of these two outstanding artists on a mission to empower the top talents of Armenia. Raising funds for the Zartonk International Summer Music Academy in Armenia.
For information call
Martin Bazarian : 416-494-3366
Lena Ouzounian: 416-893-6763
Minimum donation: $250 per couple.
Formal attire
www.atkenarmenianfoundation.com