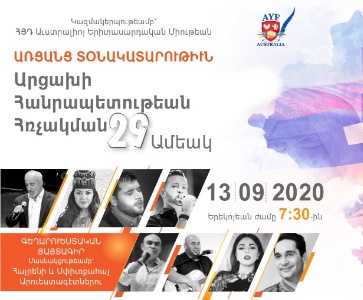 13 sept. 2020 7:30 PM
Online event
http://www.facebook.com/ayfaus

Australia
Արցախի հանրապետութեան հռչակման 29րդ Ամեակի նուիրուած առցանց տօնակատարութիւն:
Սոյն տօնակատարութեան իրենց մասնակցութիւնը պիտի բերեն հայ ազգի հանրածանօթ եւ սիրուած ութը երգիչներ եւ երգչուհիներ։
Յայտագրիրը պիտի սփռուի ուղիղ եթերով www.facebook.com/AYFAU էջէն , Կիրակի 13 Սեպտեմբեր 2020-ին, Աւստրալիոյ Սիտնիի ժամով երեկոյեան ժամը 7:30-ին:l
This Sunday 13 September at 7:30 AEST. Join us live on Facebook to celebrate the 29th Anniversary of Artsakh's independence and take a journey through the events that lead to the liberation of Artsakh. Many talented local and international singers will be joining us to celebrate this occasion!
Yeva Yeganyan
Tro Krikorian
Masha Mnjoyan
Samvel Yeranyan
Hratch Gaydzagian
Viken Dishgekenian
Magich Mgrdchian
Krisdapor Arabian