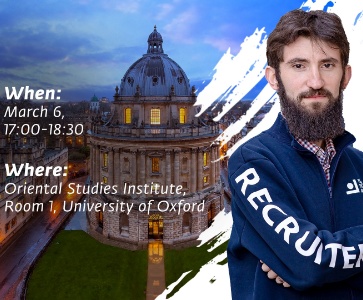 6 mars 2020 5:00 PM
Oriental Studies Institute, Room 1, University of Oxford

Oxfordshire - United Kingdom
Armenians in Oxford!
We kindly invite you to an info-session dedicated to the Teach For Armenia educational foundation. Our Recruitment and Matriculation Manager Gor Nazaryan will be at University of Oxford to present our mission and vision and speak about our Leadership Development Program.
What we do?
Teach For Armenia implements its Leadership Development program, which is a two-year transformational journey in leadership. We recruit the most committed and exceptional candidates from Armenia and the Diaspora. They are trained to become leaders and teachers and placed in underserved schools and communities as Teach For Armenia Teacher-Leaders. We invest heavily in supporting our leaders during their two-year commitment so that they succeed as teachers and mentors to their students and role models in their communities.
Looking forward to seeing you there!