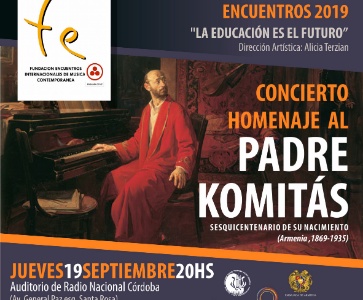 19 sept. 2019 8:00 PM
LRA7 Auditorium, National Radio, Santa Rosa 241, Cordoba.

Córdoba - Argentina
The concerts will take place within the framework of the "51st International Festival Encounters 2019", organized by the Foundation International Meetings of Contemporary Music in the cities of Cordoba, Buenos Aires and La Plata (Argentina), within the framework of the "Homage to the Father Komitas "that are being carried out all over the world. Admission is free and free.
The Concert will be in charge of the Cordoba String Quartet composed of Ariel Perez and Mauricio Pregot (violin), Agustín Cardenas (viola) and Catriel Luna (cello); the singers Virginia Bordone, Sabrina Paterno and Jonathan Fernandez and the pianist Daniel Villegas, who interpret the following works of Father Gomidas: 14 Pieces for String Quartet, 9 Armenian songs and 3 pieces for piano and the "Three pieces" for String Quartet ,written by the argentine composer Alicia Terzian ,on 3 Armenian melodies of Father Komitas.