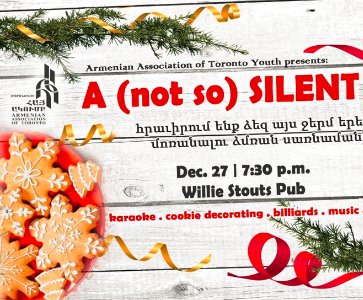 27 déc. 2018 7:30 PM
Willie Stouts Pub & Grill
2175 Sheppard Avenue East, Toronto M2J 1W8

Toronto - Canada
Հրաւիրում ենք ձեզ այս ջերմ երեկոյին՝ մոռանալու ձմռան սառնամանիքը
Tired from all your boxing day shopping and want to have some fun before New Years Eve?
Come join us at Willie Stouts Pub for a night of festive fun! You can show off your amazing karaoke skills singing Armenian and Christmas songs. Or prove you are the next top cookie designer at our cookie decorating stations. And if cookies aren't your jam or you prefer to rest your beautiful voice, we have you covered with billiards and good company!
This is a 19+ event.