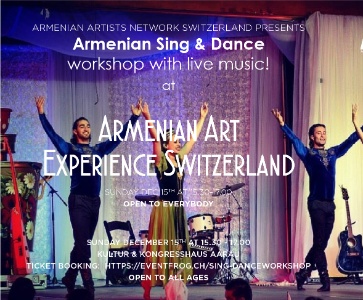 15 déc. 2019 3:30 PM
KULTUR & KONGRESSHAUS AARAU

Aargau - Switzerland
Armenian Sing and Dance workshop open to all ages. The joyful workshop will teach traditional Armenian circle dance steps and Armenian melodies.Together we will enjoy the art of singing and dancing in a circle , supported by beautiful live music !
Music: Sevana Tschakerian , Gor Ghalmukhyan
Professional dancers of the ARMENIAN ART EXPERIENCE SWITZERLAND
We will be happy to see you !Bring your friends and lets have fun !
Ticket Booking: https://eventfrog.ch/sing-danceworkshop