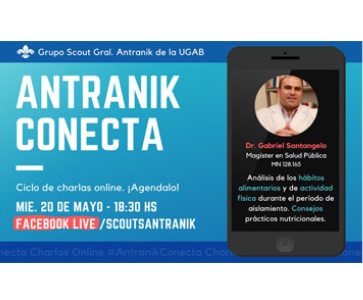 20 mai 2020 6:30 PM
Live in www.facebook.com/scoutsantranik and in our instagram page @agbu_scoutsantranik.
https://www.facebook.com/scoutsantranik/posts/2944053495685825

Buenos Aires - Argentina
Next wednesday (20/05/2020) at 6.30pm (Argentina time) we're doing an online live conference from our faceboook: "Agbu Grupo Scout Gral. Antranik Argentina" www.facebook.com/scoutsantranik and instagram page @agbu_scoutsantranik.
Doctor Gabriel Santangelo with a Masters in Public Health will be analyzing habits we may have acquired during this period of time. The talk's gonna tackle nutrition, physical activity and general tips, with a Q&A at the end.
This is the first live conference of many more to come!
⚜️Միշտ Պատրաստ։
Անդրանիկ Սկաուտական Խումբ