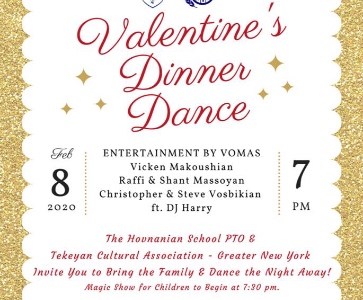 8 févr. 2020 7:00 PM
Hovnanian School, 817 River Road, New Milford, New Jersey

New Jersey - United States
Bring the family and dance the night away on Saturday, February 8 at 7pm. Magic Show for kids at 7:30pm in a supervised hall.
Mezze and dinner incliuded, cash bar. Entertainment by VOMAS and DJ Harry.
Tickets are $60 for adults and $30 for kids under 13. $75 at the door.
RSVP to Nanor at mrsnanor@gmail.com