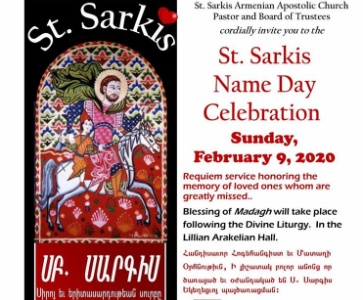 9 févr. 2020 10:30 AM
St. Sarkis Armenian Apostolic Church (Michigan)
19300 Ford Road, Dearborn, Michigan 48128

Michigan - United States
St. Sarkis Armenian Apostolic Church Pastor and Board of Trustees Cordially invite you to the St. Sarkis Name Day Celebration on Sunday, February 9, 2020.
Requiem service honoring the memory of loved ones whom are greatly missed. Blessing of the Madagh will take place in the Lillian Arakelian Hall following the Divine Liturgy.
Warrior patron of Love and Youth. Captain St. Sarkis is one of the most beloved saints among the Armenian nation. Together with his 14 soldiers/companions, he was Martyred for the sake of Christian faith. He is celebrated as the patron of youth, and the realizer of love and longings.